"Our Share of the Silver"
---
I am working on a series of quilts where inspiration and starting point is the old photos collected by Bremanger Fiskarkvinnelag (The Union of Fishermen's Wives) many years ago.
The first two in the series can be seen on the Bubble Jet Set pages, as this is what I use to make photos printed directly on fabric colour fast.
This page shows part of the process of making the third quilt in this series. It is based on this picture: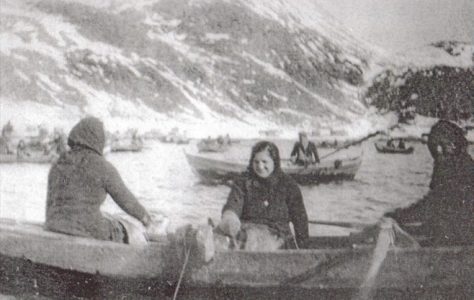 which shows three women in a boat taking part in the seasonal cod fishing (Feb-April) on the fjord.
I worked a bit with the picture in Corel Photo Paint and managed to get more women out on the fjord: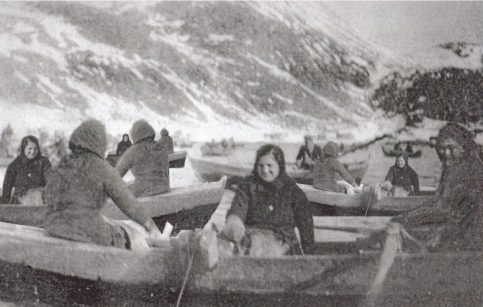 I imagined the women being in the middle of a school of fish: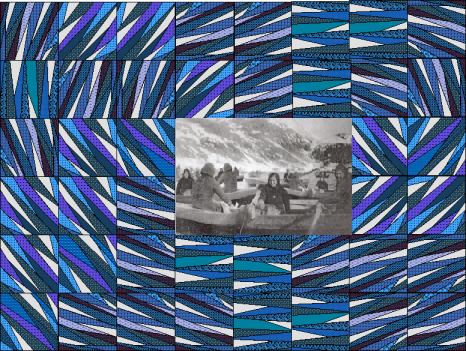 When looking at old photos in black and white everything tend to look sort of dreary, and you easily fall into thinking of the world back then as a wholly colourless place. But surely, everything was as colourful then as it is now, except for the clothes and houses, perhaps.

Anyway, I decided that the people fishing on the fjord needed a bit of sunshine: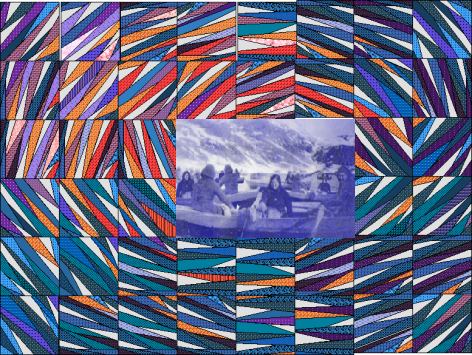 I also changed the colour of the photo to blue to be more in style with the surrounding sea.

Next I dragged some of the sunrays into the picture itself: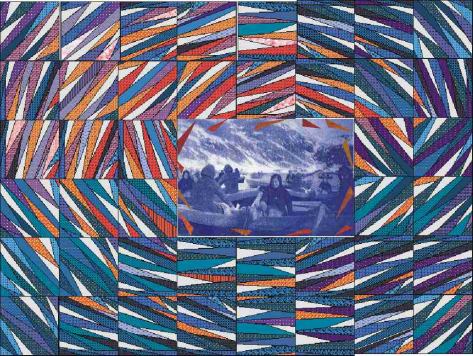 So far, - so good.
I will spare you all the tedious details of sorting through my stash for the right fabrics (actually the most thrilling part, but I respect that not everyone is like me), cutting and sewing all 42 blocks, preparing the fabric and printing the picture, joining the blocks, and again (thrilling): hunting the stash for a suitable border.

The result at this point: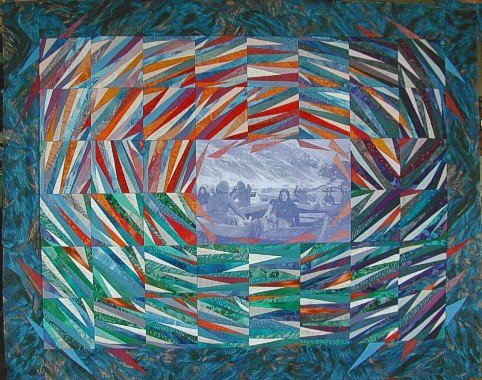 Suffice to say the fabrics are cotton and silk. A few sunrays and fish have also escaped into the border.

The finished quilt can be seen in the gallery. The quilting lines follow the movement in the blocks surrounding the photo.





---