Inspiration
---
'Where do you get all the ideas for your quilts?'
I often get asked this question, and there isn't a short or simple answer.

On these pages I will post some photos of things that I find inspirational, and which might, or might not, end up in a quilt later on.

Below are links to the pages in this section.


Coastal Scenes Fabric Prints
Shape and colour of ice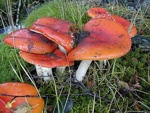 Autumn surprise